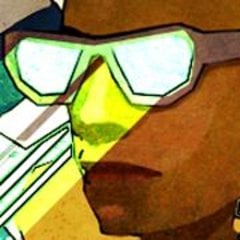 Boell Oyino
Freelance Character Designer | boell.oyino@yahoo.com
Lille, France
About
I worked in the video game industry for more than 3 years and I'm currently working for the animation field as a freelance character designer. I won the IFCC Contest in 2015 (Grand Winner & Character Design Winner). Thanks to that I had the chance to stand among all these inspiring artists / fellows and make good relationships : )
I wasn't told to work as an artist but I managed to overcome some hardships to do so. Now I always try to keep that state of mind which helps me to improve as an artist as well as a human. My inspiration are various and include fashion, dance, funk music, disco, japanese rock and japanese pop, jazz-fusion.
I try to regarly do some workouts to enhance my combative spirit !
Skills
Character Design
Illustration
Concept Art
Software proficiency

Photoshop
3DCoat

Painter
Productions
Commercial / Advertisement

IOM - Migration advertising campaign

Year

2017

Role

Storyboard Artist & Illustrator

Company

Khayal Productions
Experience
Character Designer at Khayal Productions

2D Animated film project - Queen of the Hoggard

Illustrator at Tom Durwood

Illustrator at Martine Betremieux

September 2017 - September 2017

Storyboarder & Illustrator at Khayal Productions

Illustrator at Manga no yume

December 2016 - December 2016

Bookstore poster illustration

2D Artist at Enigami

Tourcoing, France

June 2013 - November 2016

Enigami is a video game studio based in France. We are currently working on our first project : Shiness. My tasks include :

• Texturing ;

• Mobs design ;

• Character design ;

• Environment design ;

• Icons & UI design.